The Gallery Club is a non-profit foundation for photography, organized around exhibitions, curated dinners and events. Every edition of The Gallery Club explores the work of a wide range of Dutch and international photographers through a different theme.
The program of The Gallery Club is funded through art sales, curated dinners, private and corporate event organization, donations and grants. All the activities organized by The Gallery Club benefit the photographers and the foundation.
---
This week we're highlighting the work of New York based photographer Christopher Payne. Since 2008 – with permission from the NYC Parks Department – Payne has been one of a few photographers allowed on North Brother Island, an uninhabited island of ruins in New York City that hardly anyone knows and a secret existing in plain sight. It is both part of the city and a world apart from it. Its twenty acres sit low in the East River.
North Brother Island came into prominence in the late 19th century, when public health issues of an exploding population regularly made headlines. Like other islands in the harbor, it was perfectly suited as a buffer against contagions, and from the 1870s through the 1930s it was used primarily as a quarantine hospital (the infamous Typhoid Mary was confined there).
After WWII it provided a temporary home for veterans, and from the 1950s it was used as a juvenile drug treatment center until its closure in 1963. Over the years, new uses have been proposed for the island, but by and large it has been forgotten. Thanks to a threatened species of shorebird, the black-crowned night heron, North Brother has been designated as conservation land, to protect nesting grounds for the herons, which have unwittingly helped to preserve the island's forgotten fragments of New York's history.
Christopher Payne
Abandoned ferry slips, North Brother Island, 2004
Baryta fine art paper print
21 x 30 cm
Edition of 20
€ 300 (incl. 9% VAT, excl. frame and shipping)
For sales inquiries, please click here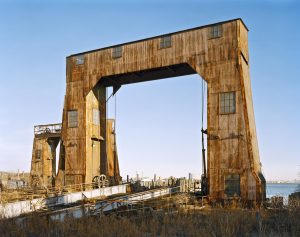 ---
Please check our Facebook or Instagram for news and updates about The Gallery Club.