The Gallery Club is a non-profit foundation for photography, organized around exhibitions, curated dinners and events. Every edition of The Gallery Club explores the work of a wide range of Dutch and international photographers through a different theme.
The program of The Gallery Club is funded through art sales, curated dinners, private and corporate event organization, donations and grants. All the activities organized by The Gallery Club benefit the photographers and the foundation.
---
UPCOMING EXHIBITION
10 – 13 April 2018
The Gallery Club presents The Passing of Time
Photography by Amanda Bradley, Stephan Göttlicher and Luis Lazo
@ The Alfred DuPont Building
entrance: 96 NE 2nd Ave, Miami, FL 33131
Opening: Wednesday April 10th // 6 – 8pm
The Gallery Club Dinner: Saturday April 13th // 6.30 – 10.30pm
Order your dinner tickets here
For more information go to the events page
---
This week we're highlighting the work of photographer Iwan Baan, who is primarily known for images that narrate the life and interactions that occur within architecture. This photo was published in the book 'Insular Insight' about the islands of Naoshima, Teshima and Inujima in Japan's Seto Inland Sea; all places of pilgrimage for enthusiasts of contemporary art and architecture.
This photo features one of the local residents of the island of Inujima in front of the art installation Contact Lens by Japanese artist Haruka Kojin. The artwork distorts the shape and size of the surrounding scenery through the use of numerous lenses of varying sizes and focuses.
Iwan Baan
2013-05-14 Inujima Island – Japan
Hahnemülle Photo Rag
21 x 21 cm
Edition of 20
€ 300 (incl. 9% VAT, excl. frame and shipping)
For sales inquiries, please click here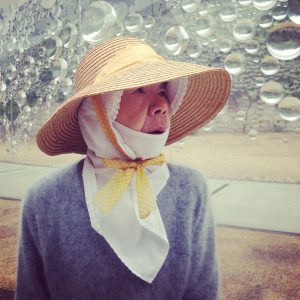 ---
Please check our Facebook or Instagram for news and updates about The Gallery Club.